Specialist for power supply systems
For almost eight decades, the company based in Jemgum (Leer) in East Frisia has been supplying reliable power supply systems for business and industry. As a manufacturer of high-quality rectifiers, UPS systems, inverters, frequency converters and resistors, Jovyatlas GmbH offers a wide range of innovative technologies. Innovative technologies and customer-focused, around-the-clock service keep you powered up.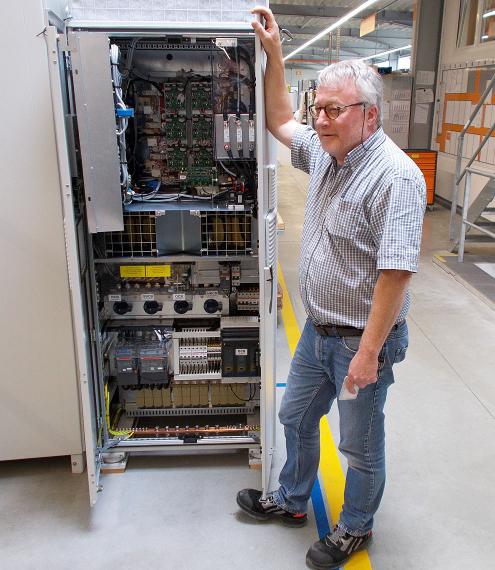 My name is Rüdiger Leuning, I am a trained electronics engineer and a specialist in the manufacturing of marine equipment. I have been working at Jovyatlas for 37 years. During this time, a company that was more reminiscent of a museum has become a very lively enterprise. Seeing and experiencing the dynamics in our now four halls is something special for me. But I wouldn't have stayed so long if there hadn't been so much support and good cooperation with colleagues and managers. That is enormously important for me to emphasize.
There was always a lot to do on a day-to-day basis. I had to build up a lot of stress resistance. In addition, there were constantly new challenges in the production of systems for a wide variety of applications: The spectrum ranges from cinema rectifiers to the demagnetization of submarines. It was exciting to manufacture plants for use in the Andes in Chile. I installed the subsequent delivery of a system under difficult conditions with an oxygen mask at an altitude of 5500 meters. That was an impressive experience.
Hey, my name is Lea Hüls. Actually, I only wanted to do an internship here, but it turned into an apprenticeship right away. I was in business school and took the bus past Jovyatlas every day. At some point I thought to myself "why not give them a call about an internship?" During the interview, I got the offer to do my training here. Now I'm already in the middle of my apprenticeship at Jovy as an office management assistant. From the very first moment, I was welcomed with open arms and accepted as a full member of the company. That is super motivating.
I'm currently learning in sales, in two months I'll move on to service, and then I'll switch to the next department. In the process, you're constantly developing. In sales, for example, I have a lot of customer contact. I used to be too shy to talk to strangers. Now I really enjoy it. At the moment, I can well imagine staying at Jovy and perhaps going abroad after my training. I'm excited to see what the future holds!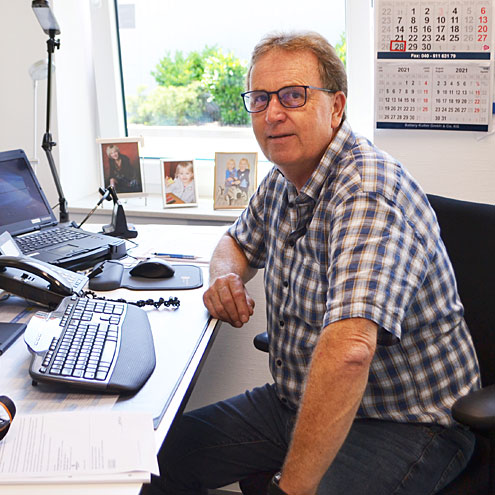 My name is Hartmut Hensmanns and I have been with Jovyatlas since 1982. After five years in the test department, I moved to the service department and have visited many countries and interesting companies. Highlights for me were the service jobs on the ships and a three-week assignment at the Neumeyer Station in Antarctica. There I commissioned a 2x 30KVA UPS for the EDP supply of the station. I also had interesting assignments in the Atacama Desert and the Los Pelambres Mine in Chile. Our UPS systems supply control computers in the copper mines and support the power supply of the radio telescopes at an altitude of 5000 meters.
Since the mid-90s, our UPS systems have often been installed on cruise ships. Here, the highest level of supply security is required and immediate service is needed in case of malfunctions. Later, I switched to internal service and now work in service support. I am an enthusiastic problem solver and can always rely on the support of my colleagues.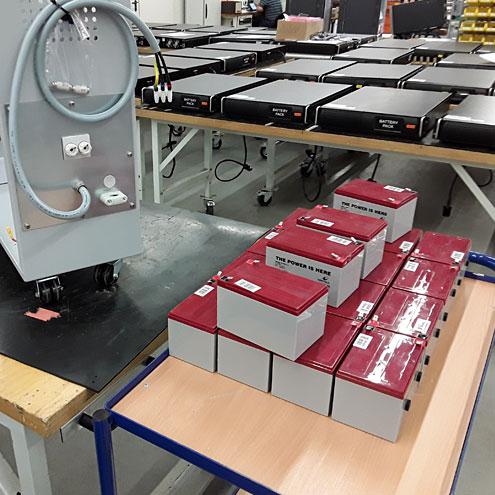 My name is Henri and I am doing an apprenticeship as an electrical engineer at Jovyatlas. I'm currently building small UPS systems, but I've also been in the test field, built larger UPS systems and much more. I prefer to build medium-sized UPS systems, like the ones for the Meyer Werft shipyard. They're not too small and not too big, but they're so complex that all kinds of different parts and challenges come together. Since I'm in my third year of apprenticeship, final exams are coming up soon. I have set learning times with my trainer, and we apprentices also occasionally learn with one of our engineers.
I've always been enthusiastic about technology. During my time at school, I did two internships at Jovyatlas. That's why it wasn't hard for me to choose electrical engineering as a subject and this training company. I like the way I interact with my colleagues here, and working together is actually always fun.