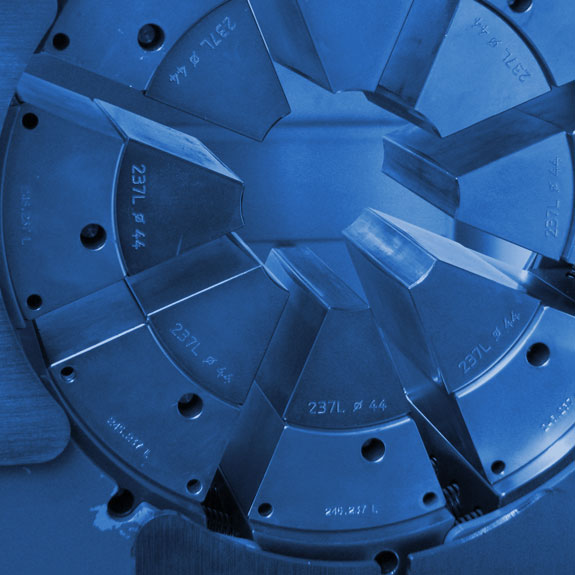 The Best Return
on Investment
Innovative systems for production and processing of hose assemblies
Founded in 1972 by Dipl.-Ing. Peter Schröck, Uniflex Hydraulik GmbH has been part of our group of companies since 1992. Through groundbreaking innovations and exceptional product quality, Uniflex quickly developed into one of the world's leading suppliers of machines for manufacturing hose assemblies. Durable quality "Made in Germany" and exceptional service guarantee a sure return on investment. Subsidiaries in seven different countries ensure global customer proximity and the fast and unbureaucratic service Uniflex is known for.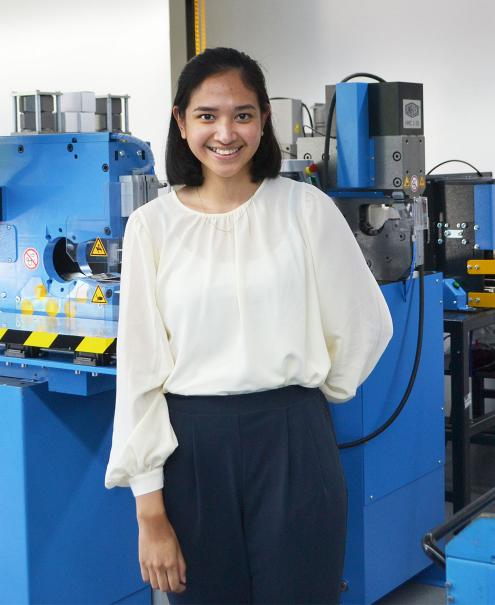 Hey, I'm Atharina Saptiono. I work at Uniflex as a technical editor. I've been with the company for five months, and among other things I've written operating manuals and conducted risk assessments.
I knew early on that I wanted to be an engineer and came to Germany to study mechanical engineering. I particularly enjoy the mixture of mechanical engineering and design in product development. I would like to develop further in this direction. During my studies I did several internships in the field and gained experience in creating technical documentation. This is how I got to know the job of a technical editor. My job at Uniflex now allows me to flexibly combine these aspects of interest.
Women still don't have it easy in the male-dominated engineering field. But here I have always been listened to. And I've have already had different experiences elsewhere. At Uniflex, creativity and flexibility count, no matter who you are or where you come from. Diversity and openness are lived here. We could show that even more clearly to the outside world.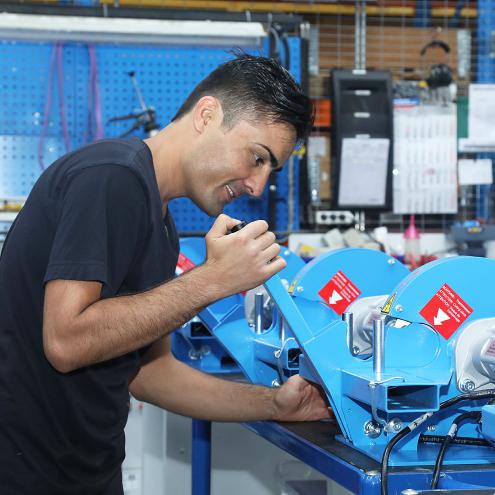 Hello, I am Obaid and I have been working as a mechanic at Uniflex Hydraulik since 2016. I came to Uniflex through the recommendation of a friend. I assemble press machines, cut-off machines and much more. I also operate and repair the machines.
During my time here, I have gained a lot of valuable experience and have matured. I have also received many compliments for my work. This appreciation gives me more energy and motivates me. Helpfulness, calmness and top performance are important to me in my job. And I try to improve every day.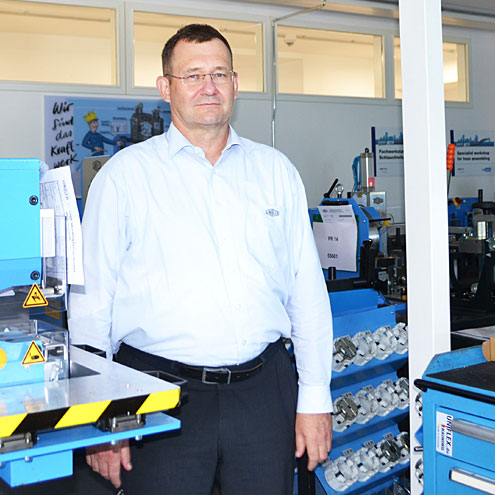 My name is Henning Schatz. There are few areas at Uniflex in which I have not worked. The list of my roles is long: Head of Operation & Administration, Division Manager, responsible for the Admin, Procurement, IT departments, Customs Representative and Chamber of Commerce Representative.
After researching the commercial register in Frankfurt about companies in the hydraulics industry, I got on the train in 1992 and went to Uniflex to submit my initiative application. After about two weeks I was allowed to start.
What I particularly like about my job is the great variety. Every day is different. When you can do so many different things in one company, you don't want to change. My goal is to stay here until I retire.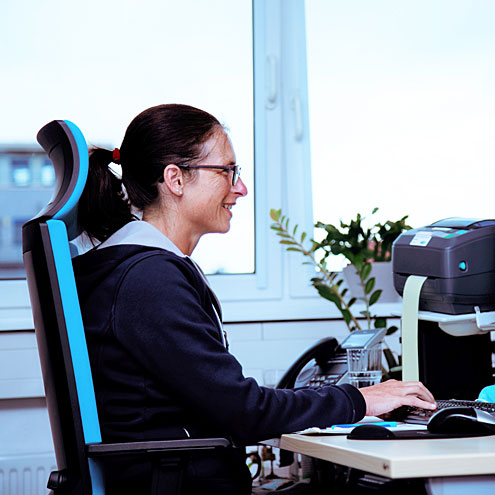 My name is Katja and I have been working at Uniflex for four years. You can find me in the procurement department. We buy everything that is necessary for the production of our machines. My teacher in advanced training always said that material procurement (disposition) is actually quite simple. After all, you don't do anything else at home. You look in the pantry and buy what's missing.
Unfortunately, the practice is not so straightforward. The past few years have been very busy. There are always new things that you have to adapt to quickly. That's how I learned a lot about supply chains.
It makes me happy when I get positive reactions from suppliers. That makes the work very pleasant. In the meantime, I know the suppliers well and know how to deal with one or the other peculiarity. Friendly but firm. Everything is not always perfect, but you can work on making things a little more perfect.
Uniflex of America, LLC, Chicago (est. 1998)
1088 National Parkway, Schaumburg, Illinois 60173,
Telefon: +1 847 519 1100, Telefax: +1 847 519 1104, E-Mail: sales(at)uniflexusa.com
Uniflex Latin America S.R.L., Montevideo (est. 2016)
Saint Bois 5074, 12000 Montevideo, Uruguay
Telefon: +598 2 228 0026, Telefax: +598 2 220 1271, E-Mail: alvaro.rodo(at)uniflex.de
Uniflex Asia Pacific Pte., Ltd., Singapur (est. 2004)
51, Bukit Batok Crescent, Unity Centre, #07-42, Singapur 658077,
Telefon: +65 68966795, Telefax: +65 68966428, E-Mail: kenny.teo(at)uniflex.de
Kompl. Villa Melati Mas, Jl. Seruni III, Blok SR 10 No. 16, Serpong, 15323 Tangeran, Indonesien
Telefon: +62 219 3675 888, Mobil +62 215 3741 43, E-Mail: gunawan(at)uniflex.cc
Uniflex Asia Holding Pte., Ltd., Singapur (est. 2008)
51, Bukit Batok Crescent, Unity Centre, #07-42, Singapur 658077,
Telefon: +65 68966795, Telefax: +65 68966428, E-Mail: kenny.teo(at)uniflex.de
Uniflex-Hydraulik Trading Co., Ltd., Shanghai (est. 2008)
South 2 Warehouse, No. 500 Jianyun Road, Zhoupu Town, Pudong New Area, Shanghai 201318, PR of China,
Telefon: +86 21 5032 7022, Telefax: +86 21 5032 7021, E-Mail: hongbo.ye(at)uniflex.cc
Unijoin Machinery Co., Ltd., Shanghai (involved since 2011)
1 F (W) No. 6 Building, Lane 3199, ZhenBei Road, Putuo District, Shanghai 200331, PR of China,
Telefon: +86 21 5284 0728, Telefax: +86 21 5284 0720, E-Mail: luzheng(at)unijoin.cn
Uniflex Hose Assembly Machines India Pvt. Ltd., New Delhi (est. 2012)
Khata No. 588/627, Rect. No. 33, Kila No. 19 8-0, Pataudi Road, Kadipur Industrial Area, Gurgaon, Haryana, 122001, Indien
Telefon: ++91 11 26441901, E-Mail: anil.gupta(at)uniflex.de
Uniflex Japan
1-20-3 Nishi-Shinjuku, Shinjuku-ku 8F, Nishi-Shinjuku Takagi Bldg., 160-0023 Tokyo, Japan
Tel. +81 3 6890 3386, E-Mail: sales(at)uniflex.de