Power supply reliably and at any time
Lindner & Müller Industrie-Elektronik GmbH, together with Jovyatlas, forms our task force when it comes to interruption-free power supply. The company, based in Stuhr near Bremen, was founded in 1994 by Bernhard Lindner and Wolfgang Müller and is part of the Freiherren Waitz group of companies since 2022.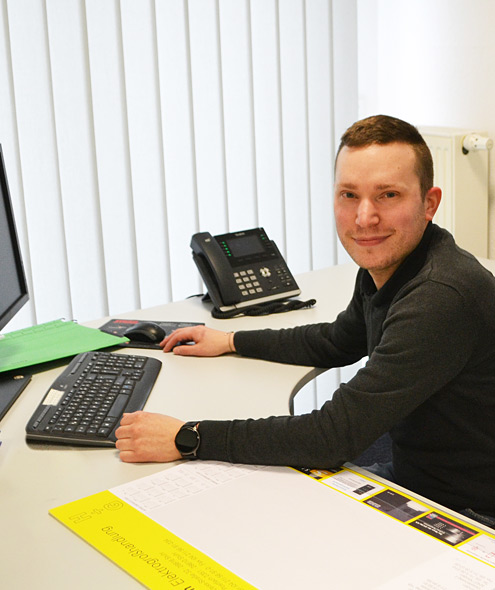 Hello, my name is Steffen and I do project management at Lindner and Müller. I am mostly responsible for AC, or alternating current, systems, but I also do DC systems. I started here in 2017 in electrical cabinet wiring and was initially scheduled for service and maintenance. To get to know and understand our devices better, I supported my colleagues in the test bay. Gradually, I took over the supplier complaints. That's when the office work started, and it became more and more: discussing orders with customers, drawing and designing circuit diagrams, creating documents, procuring purchasing, organizing installation and acceptance. I once became a mechatronics engineer because I wanted to do something tangible and I was fascinated by the interaction between mechanics and electrics. Now I work in the office and plan exactly this interaction.
No project here is the same. Sometimes I even travel to the customer. And it goes on: Now I do my technician on the weekend. It's often challenging to juggle everything and meet the deadlines. But it's a good feeling when you see the finished product at the end and everything works as you imagined.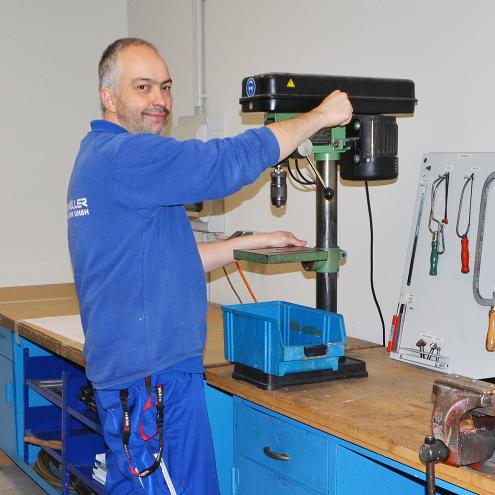 Hey, I'm Cem Sökmen. I became aware of Lindner & Müller through a newspaper advertisement. That was in 2015 and I've been with the company ever since. In addition to my work as a panel builder, I am active in a variety of areas: Test bay, service, inventory and I accompany acceptance tests. I'm a practitioner through and through, have to dig, have action - and that's what I get here
The work is fun mainly because of my colleagues. Without colleagues, the best work in the world is useless. And it makes me happy when you're at the customer's, connect the new or serviced system, and the customer then shows gratitude. However, my least favorite part of the job is the inventory, which just goes on and on. It's nice when there's variety again instead: For example, I was once in the Konrad mine, where medium-level radioactive materials are stored, and twice I was also on top of a wind turbine, where there was a lot of shaking. We also install our plants on ships, and it's usually pretty cramped there.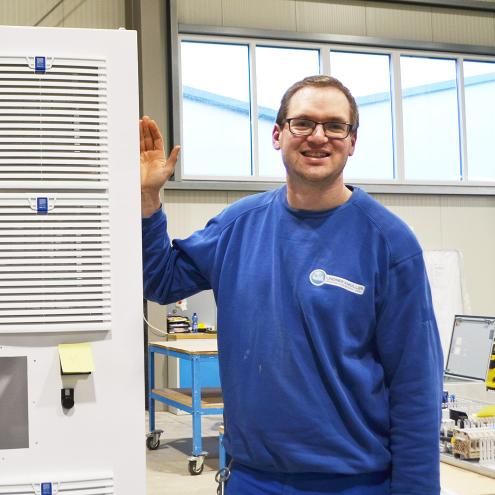 Hello, my name is Christian and I have been working at Lindner and Müller since 2016 as an electrician in control cabinet construction. I also support my colleagues in the mechanical area and do goods receiving. A while ago, I completed my forklift license here. In my free time, I am a member of the volunteer fire department.
What I like about my job is the processing of control cabinets and my colleagues, it's top here. I enjoy a lot of things. But it can also be exhausting when, in the middle of working on a cabinet, it turns out that the plans aren't right and you have to start all over again. And there's always room for improvement. For example, you could set up a new storage system to make work easier. It gets exciting when you maintain plants under special conditions. When we carry out maintenance work in the Konrad shaft, it takes place under high safety conditions because radioactive material is stored there.